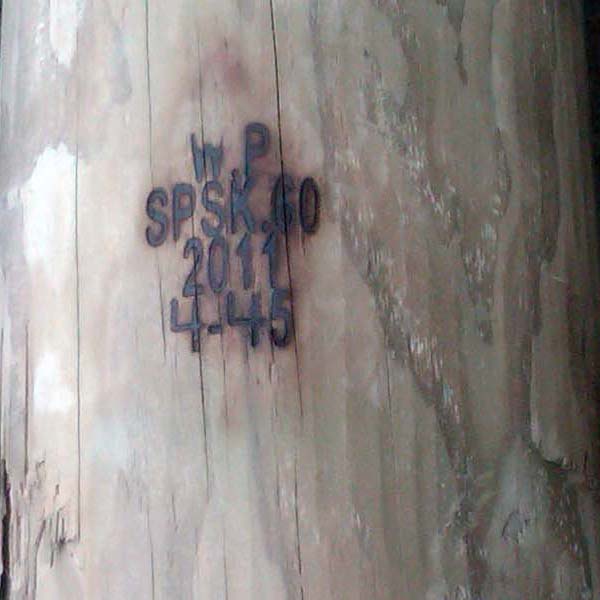 Wood Preservers manufactures a complete line of Class 1 through Class 7 CCA treated wood distribution poles up to 65 feet in length. Our utility poles meet or exceed ANSI and AWPA specifications, and are produced in accordance with Best Management Practices (BMP's) for CCA treated wood. We supply utility poles to Investor Owned Utilities, Electric Cooperatives, Municipalities, and Contractors primarily in the Mid-Atlantic and Northeast Regions of the United States.
Our utility poles are made from Southern Yellow Pine that is selected and manufactured to be in compliance with the American National Standard Institute (ANSI) 05.1 Specification, and we can meet additional customer specifications as required. The utility poles are then kiln dried and treated with CCA-C to meet the American Wood Protection Association Standards (AWPA) C-4 and UC- 4A, 4B and 4C, Latest Edition. We then go the extra mile and take all of our utility poles and process them further in accordance with AWPA standard A74 to meet Best Management Practices (BMP's) for the CCA treated wood industry. This process is called fixation, and it assures the customer that when they receive our utility poles that the preservative treatment is fixed in the wood at its maximum level. Each step in our production process is closely monitored by quality control personnel to assure that our utility poles are in full compliance with both industry standards and additional customer specifications.
For various reasons, CCA should be your preservative of choice for utility poles. We use the Wolman® oxide formulation of CCA which has both a low corrosion rate of galvanized hardware, including bolts, pole steps and lag screws, and a low rate of conductivity that provides protection against the effects of current leakage for the safety of the line workers. CCA utility poles are clean to the touch for both the benefit of the public and utility crews. Since the CCA preservative in our utility poles is fixed in the wood, there is no movement of chemicals within the wood, and this lack of chemical migration eliminates the expense of future ground-line treatments of the utility pole.
The utility industry has also developed into a market for Strong-Seal® composite poles. With Strong-Seal® we take an ANSI and AWPA approved .60 pcf treated wooden utility pole and wrap it with fiberglass. Strong-Seal® offers additional protection to the ground line section of the pole by wrapping the butt end of the utility pole. Additionally, the top section of the utility pole can be wrapped with Strong-Seal® in areas where utility poles are subject to woodpecker damage. Data is being developed to determine how much the Strong-Seal® fiberglass wrap increases the bending strength of the utility pole, but currently there are no claims of increased strength with the use of Strong-Seal®. For additional information on Strong-Seal please visit our Strong-Seal product page.
We can deliver CCA or Strong-Seal® utility poles directly to your storage yard or jobsite on self unloading trucks. Feel free to contact us to meet your utility pole needs.
Also see our fiberglass composite utility / lighting poles.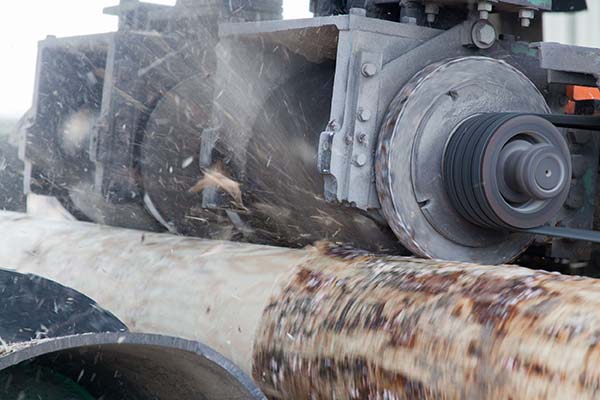 Information Downloads