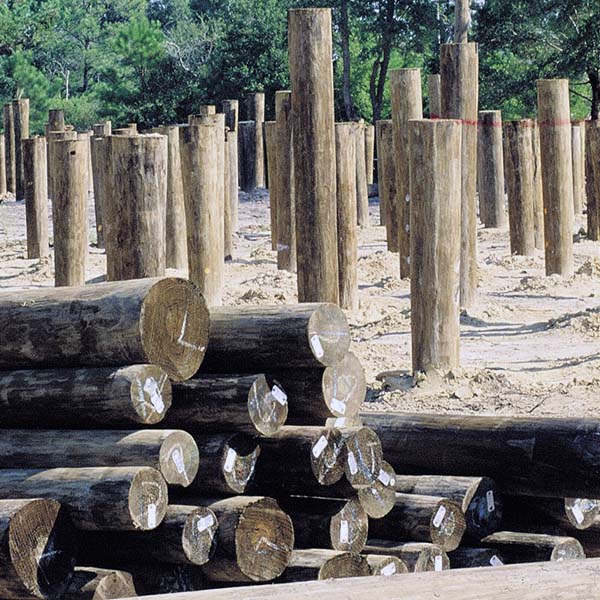 Foundation Piling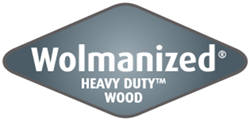 We are a major East Coast supplier of CCA treated wood foundation piling. CCA treated wood foundation piling are the engineer's and architect's product of choice for foundation work where product cost is a leading consideration in project design. We stock a full product line of .80 pcf CCA treated southern yellow pine foundation piling that are produced in accordance with the latest American Society for Testing and Materials (ASTM) and American Wood Protection Association (AWPA) standards. In order to assure our customers that our foundation piling are produced using the latest technology, we go the extra mile by also producing all of our foundation piling in accordance with an additional AWPA specification, standard A-74. Following this specification allows us to meet industry requirements for material produced in accordance with Best Management Practices (BMPs).
We hand select and individually inspect every tree that is chosen for foundation piling to assure our customers that our piling meet ASTM specification D-25-99 requirements for straightness and quality. Our foundation piling are then sorted and sized according to the diameter of the piling at both the large butt end and the small top end, to meet your engineer's requirements on your project. We maintain large inventories of foundation piling in lengths from 16' to 75', and offer deliveries to your jobsite on self-unloading trucks to keep your construction crews working in the field.
CCA treated wood foundation piling have been used with confidence for decades. For strength and design information on CCA treated wood foundation piling please visit the website of the Timber Piling Council (TPC) at www.timberpilingcouncil.org.
Wood Preservers, Inc. is a founding member of the TPC.
More Information
For more information, or a quotation on your specific project please do not hesitate to contact Charlie, Doug, Cindy, Peyton or any of us at Wood Preservers with any questions that you may have.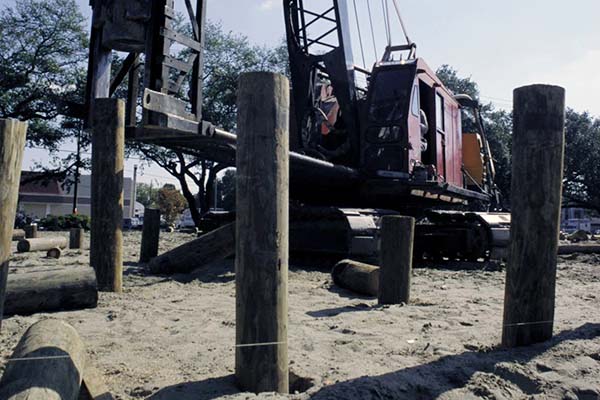 Information Downloads